To introduce people to my work, I sometimes post small paintings (no larger than 6 x 8") for auction on my blog. For those not interested in auctions/bidding, I'll also be posting small paintings for direct purchase online at full retail prices.
Before you place a comment/bid, please follow these guidelines...
Each painting will have a required minimum bid of $150. A shipping charge of $15 will be added to the winning bid (US and Canada). International shipping rates will apply for all other locations. Each auction will begin approximately 6:00 PM Eastern Time (US) and will last for 24 hours. An update will be emailed to my newsletter subscribers when a new painting is posted. The winner will receive a PayPal invoice in the amount of the winning bid plus shipping and any required sales tax. Payment by check is also possible but will cause a delay in shipment of the painting. You can contact me for details. Paintings usually ship within 20 business days after payment has cleared. In the event a person with the winning bid cannot complete the purchase, the painting will go to the person with the next highest bid.
1. Bid by leaving a comment. If bidding, please limit your comment to your bid only. Comments on the paintings are also welcome. For functionality and consideration of those posting bids, I ask that they be brief and respectful of others. Comments not relevant to the auction painting will be removed. Note: Disrespectful, rude or threatening posts will disqualify a bid and/or bidder. I reserve the right to delete any bid/comment at my discretion and without prior notice.
2. To place a bid, you will have to provide your email address, which will remain private and NOT VIEWABLE to the public. You may bid as many times and as often as you like. Privacy: If you're concerned about your privacy you may bid using just your initials instead of your name. If you have a social media account (Facebook, etc.), when bidding, use a different email address (one that isn't linked to your FB account).
3. Please bid in $10 increments...$150, $160, $170, etc. You may bid in larger amounts if you prefer, but please keep it in round numbers as outlined.
4. Each new auction painting will be available at auction for 24 hours. Paintings that don't sell during the auction will either be removed from the site or placed elsewhere and offered at full retail prices.
5. If you want to be notified about new auction paintings, please subscribe to my newsletter.
6. If you would like to follow the bidding process after placing your own bid, check the box below the comment area where it says... "Check this box if you want email updates when people comment on this post". You will receive follow up comments/bids sent to your email address.
Example: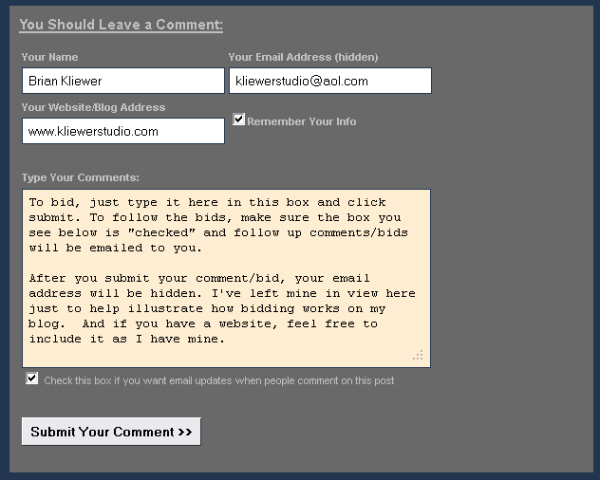 Remember, email can be fickle. So if you're not getting email updates after placing a bid and checking the box, your best bet is to come back here before the auction closes.
7. Have fun!

View the current painting up for auction (if any) on my blog. To bid, click on the "post title" or the "comment" link and then scroll down to the comment box and place your bid.
*Subject to change