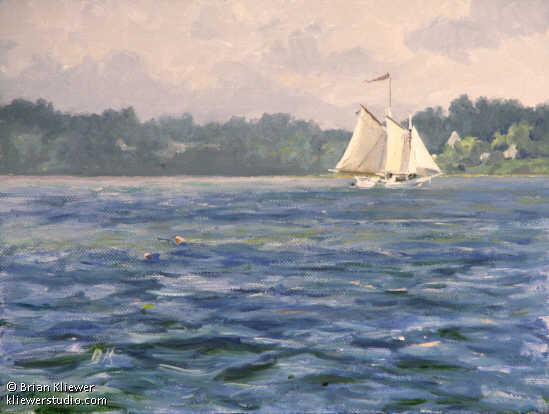 "The Isaac H. Evans" 6"x8" oil on linen © 2012 Brian Kliewer SOLD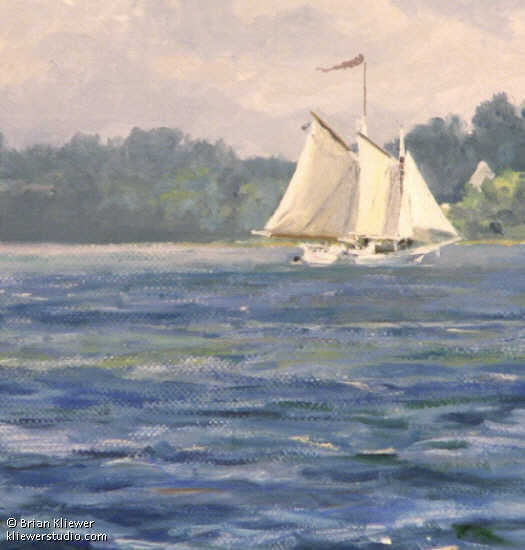 "The Isaac H. Evans" detail © 2012 Brian Kliewer
See all the paintings in the Maine Windjammers Series
About the painting...
This is another view of the "Evans." The first painting I posted featured the ship in a backlit setting. Here she's on display in full sunlight. The Evans is sort of an elusive schooner to me. It often looks like a work horse when compared to the other schooners in the fleet, but it also looks very lovely under sail. It has a two-tone hull...light gray on the lower portion and bright white on the upper. This adds to the elusiveness. Oftentimes under full light, as you see it here, it looks like an entirely white ship.

Bidding begins at 6:00 PM US Eastern Time. If you would like to bid on this painting, please follow the Updated Auction Rules and Guidelines. Thank you.
Minimum bid is $150. Bidding will close at 6:00 PM Eastern Time (US), Saturday, March 24.
Paintings usually ship within 20 business days after payment has cleared.
($15 shipping US/Canada will be added to the winning bid) (5% sales tax Maine residents only)
Bids are now closed.