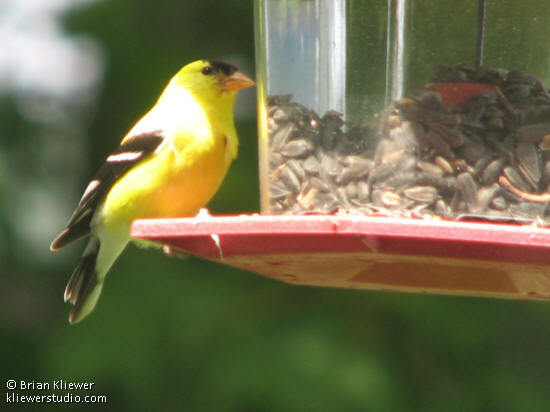 Several birds were at the feeder this morning, mostly Nuthatches and Chickadees. I took this photo of a Goldfinch a while back. I'm still not getting the variety I would like, but this beats the Red Squirrel...
Guilty!
I watched this little guy try to figure it out for a few weeks, never seeing him on it. Then one morning I saw this. But he hasn't been around for quite a while now...not that I can tell, anyway.
Eventually, if I can get enough good reference material, I might do some small bird paintings....or small paintings of small birds.
Squirrels are notoriously crafty when it comes to bird feeders. This feeder has a cable that's covered with a rubber coating. A couple of times, I saw this guy gnawing at it just above the roof. I couldn't figure out why he'd be so interested in wearing it down, and then one morning I looked out and saw the roof had been lifted up off of the feeder itself. The clip just above the feeder grasps into that rubber coating, holding the roof in place. Could it be that the squirrel knew this and that's why he gnawed away at it? That clever or not, it happened. I've since had to keep a close eye on that clip, making sure it stays fastened down.
The squirrel might even show up in a painting at some point. I hold no grudges. :)