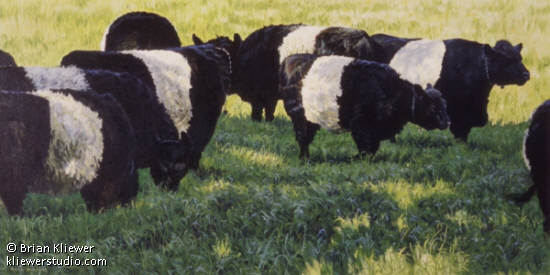 "Aldermere Clan" 24"x48" oil on canvas © 1994 Brian Kliewer
I started painting Belted Galloways in the early 1990s. I've never really painted other breeds very much because the Galloways have interested me most. I'll continue to paint them from time to time because I do enjoy painting the breed.
Not long after I started painting them I contacted A.H. Chatfield, Jr. of Aldermere Farm in Rockport, Maine. I wanted to get his opinion on my work and let him know I had a series planned. He gave me all the guidance he could and I appreciated it a great deal, especially coming from him. He kept telling me to "be sure to get their faces correct...most artists and photographers never capture them right." So that was what I set out to do. I remember his words when I showed him "Aldermere Clan" for the first time. He said, "Now those are some fine looking animals!" Whether he was praising my work specifically, or also making a point about his own animals, I'm still not sure. He was kind of a character, but always a gentleman. Needless to say, I felt greatly honored!
I've continued on with them over the years for no other reason than the fact that I simply enjoy painting them. To me, there's just something special about the animals. Whether it's a breed trait or just the fact that they're used to it, the animals at Aldermere Farm never really pay much attention to me when I'm there. Other breeds always seem to stop whatever they're doing and start watching me. I hate that.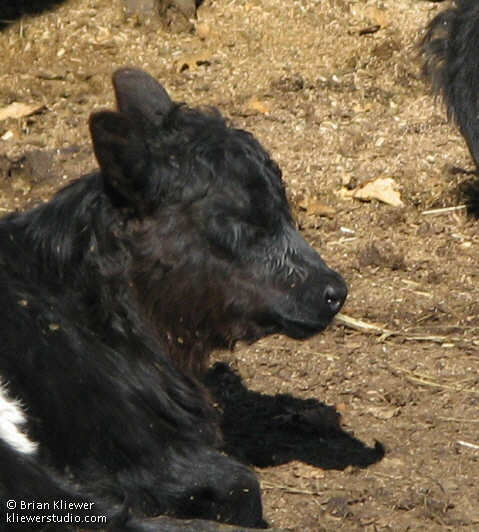 Photo © Brian Kliewer
Though I don't paint them as often as I used to, I'm sure there will be more "Beltie" paintings to come...