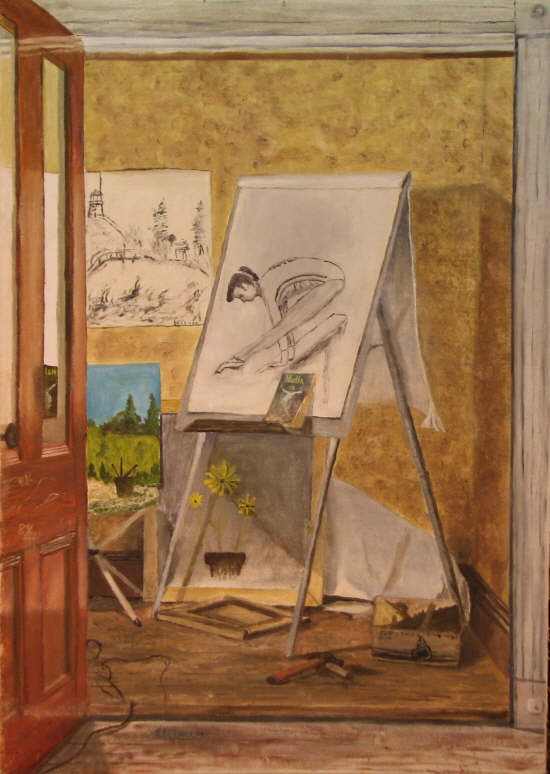 "A Press Handstand" 24"x18" oil on panel © 1977 Brian Kliewer
I found this the other day and sort of flipped when I saw it.  Had no idea it was still around.  It's a painting I did when I was 14 of my first 'studio.'  Nadia Comaneci was still big in the news after the 1976 Olympics and I was working on some drawings and thought a painting would be challenging. 
The 'studio' was just an end of an inside hallway but when the door was closed, it worked out quite well for my needs at the time.  In the painting you can see the book, "Nadia," on the easel and its reflection in the glass window in the door.  On the wall in the background is a drawing of the Owls Head lighthouse, with a partial view of the painting on a table below it.  The flowers in the pot?  Don't ask, I have no idea what I was thinking on that. Below the easel a hammer rests on a block of wood and an old "Black Label" beer box was used for storing supplies.  If you look closely at the door, you might be able to spot my initials, "BK" carved into it.  I didn't actually carve them in...a little artistic license.
The painting was partly inspired by Norman Rockwell.  I remember buying a book about his work at the time, liking how he handled interior light, and wanting to see what I could do with it myself. 
The cord you see in the lower left went to my radio.  I remember listening to "Easy" by the Comodores, "Year of the Cat" by Al Stewart and "Strawberry Letter 23" by The Brothers Johnson. 
Good memories.