Or as Winnie the Pooh might say...Oh Bother!
Sorry to have just dropped out of site (pun intended) but....I have to keep telling myself... I love my computer! I love my computer! I love my computer!
Well, not so much these days. I've gotten A LOT of good use out of it! But it is getting old and acting very much like it has a virus, which I don't believe is the case...though I will continue to update and scan, scan, scan! (And Mac lovers, don't preach...if you've been keeping up with tech news, you KNOW you're not safe either. Does Flashback ring a bell?) No...not trying to scare you. I've just seen too many "smug" Mac users over the years...and, Smug + Mac = smack!
Anyway, the first inkling I got something was up is when my Task Manager started to look like this: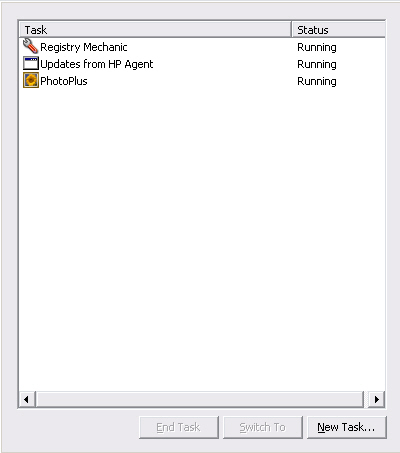 It's supposed to look like this:
I couldn't close it, let alone expand or minimize it.
I don't know how it happened but it apparently got "minimized" within itself instead of to the Taskbar....? The only way I could close it was by right clicking on the tray icon and checking "close." I thought I'd mention this because it apparently can happen with any Windows XP machine. The quick fix is to double click the gray box. Doing that will expand it to full size.
Whether this is a glitch or not (apparently not), I never knew about it before. I did know about clicking the blue bar across the top but never realized I could double click the gray box and adjust its properties that way, too.
Whenever...
OK, so here I am...again... but I don't know for how long. I did some tweaking to get my machine running again, and it has worked. This is why I don't believe it's virus related, plus the fact that my scans have all been clean. (It actually has been running the entire time...it's Windows that hasn't been loading properly.)
I'll be back in full swing as soon as I can be, either with an upgrade to this computer...or with an entirely new one.
Ciao! Or as Piglet might say.... "Oh, dear. Oh d-d-d-dear, dear!"