Comments have value!
I just wanted to take a moment to give an example of the power of blogging, and leaving comments on them.
The comment below was left on my blog three months ago. I've highlighted Dot's comment for a reason. The search below it took place in March...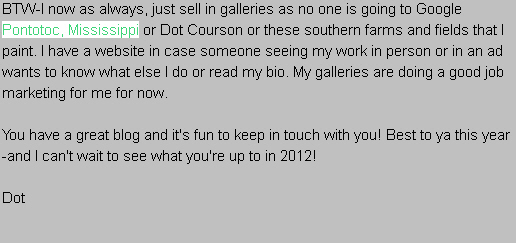 (I saved Dot's comment as a jpeg. That's why you see my copyright notice on it. It just looks like text here on the page. Her original comment is still on my post, "Marketing Art On The Internet, Part 2")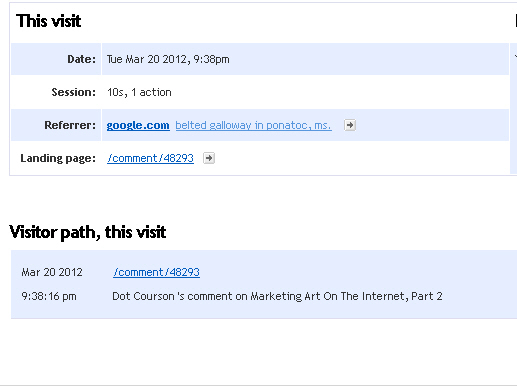 As you can see, someone DID search on "pontatoc, ms," "belted galloway in pontatoc, ms" to be exact, and landed on Dot's comment! On my site, you'll see Belted Galloway paintings. But I've never seen a visitor come looking for "Pontotoc Mississippi" before.
Now by no means am I telling you to "tailor" your comments for search. That wouldn't work...and if I see it, I'm going to delete it as spam as would most other bloggers. But being natural does work...and you never know who is going to search for what. After all, there are millions upon millions of searches being conducted every day! One source states that the average number of searches in 2011 on Google alone was 4,717,000,000...per day.
The only problem with me using this example is that with "secure search" in Google, which more and more people are using, I can't show these kinds of results because they don't appear in my visitor logs. This one was a "non-secure" search. But that doesn't mean they aren't happening. Even with "secure searches," I can still see what pages site visitors land on. Not a lot of information, but still useful. If it had been a "secure search" in this case, I would probably have guessed that someone searched either on Dot Courson's name or Pontotoc, Mississippi.
Got blog?
To have this happen on a comment says something to me. If just a comment can bring in a visitor looking for a particular subject, what can an entire blog post itself written on that subject do? So is blogging a "crap shoot" or a waste of time? I think not.