Watching the Windjammers Sail on Penobscot Bay
This interest started for me as a little boy. I remember seeing the ships many times from our kitchen window as they headed out of Rockland Harbor. It has continued on down through the years. As a teen, I watched the "Great Schooner Race" as the ships passed the breakwater. I remember when they started gathering every year, long before the city of Rockland took note. Eventually, there was a celebration called "Schooner Days" that was developed around it but it seemed to take quite a while before the city fathers caught on. Maybe I'm being a little "harsh" here, I don't know. We still have the North Atlantic Blues Festival in July, at least and the fleet graces us with its Windjammer Parade that same weekend.
This year's race itself will start in Rockland the week before (July 6) and end in Camden, but I miss the days when it finished here. It was always fun to watch the schooners heading in as fast as they could. I will try to see the parade, however. It's still a beautiful sight. It just doesn't seem the same without the 'racing to the finish' aspect of it.
It Started with a ship in a Bottle
When I was nine or ten, I built a ship in a bottle using one of the schooners as a model. Yes, it was a ship in a bottle. I carved the hull from a stick of wood, and added the masts, rigging, sails and all. I didn't build it "in" the bottle as I have seen some do. Nor did I cut the bottle in any way as I also have seen some do. I built it outside but hinged the masts and raised them by pulling on a string after sliding it inside. Worked fine. I saw a short film clip on a children's television program (The Captain Kangaroo Show?) of a man building one and decided I wanted to try it, too.
The method I used was very similar to the one used in this YouTube video...
I did everything "from scratch." Even the bottle used was a regular wine or vinegar bottle, not wide like the one you see in the video. This is where my interest in the schooner fleet started. But, really, it started earlier than that...
Fly Rails and Flying Jibs
I recently purchased a copy of "Fly Rails and Flying Jibs, Coasting Schooner Photographs by Robert H. I. Goddard." My grandfather would have loved this book I think. The schooner photos in it were taken in his time, the days when he was sailing. Mr. Goddard took these photos from 1926 - 1947. So this book is giving me a sort of window back into my grandfather's time on the seas.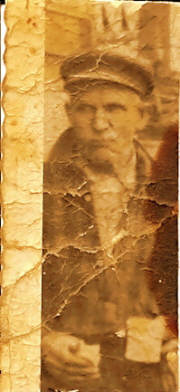 This is my grandfather. I never knew him; he died more than a decade before I was born. He was a sea captain...not of any schooners that I'm aware of but he did command his own ship. Here he's aboard ship, having a sandwich and a cup of coffee. I believe this was taken in the late 1930s or early 40s. This is, sadly, the only picture I have of him.
My mother used to tell me stories about his trips around the world. His own story itself is like a Rudyard Kipling tale. He ran away from home as a young boy, was stowaway on a ship and didn't return until he was of legal age. That's how he came to love the sea. Many who knew him thought him to be a college graduate, but he was in or had completed the third grade when he ran away and never had very much "formal" schooling after that. He was truly a "self-made man."
My interest in the sea has always been flavored with things I remember my mother telling me. But I never developed the kind of love for it my grandfather had. Not that I couldn't have... it just didn't develop in me. I was a "landlubber" and my landscape paintings and such have proven that over the years. But this is an area that I have always wanted to explore...
"From the Stern" oil on canvas © 2011 Brian Kliewer

Schooner Series
In my own way this series of paintings is meant as sort of a personal tribute to my grandfather. I've always wanted to do it but held off because I am not a "nautical" artist. In fact, I have no intention of becoming one. I have no intention of trying to be the next Christopher Blossom or Montague Dawson (both excellent in their own right). That's not the idea...
I'm a painter and this project is a learning experience. More than anything, I want to broaden my view. I mean it when I describe it as a learning experience and I fully expect to take some shots from "old salts" who might see something "wrong." I don't care...that won't stop me. I'll do my best and you can bet that means learning as much as I can in the process. That's what it's all about for me. But isn't that what it's supposed to be about for any artist?
I'm going to try to get a new windjammer painting posted here before the week is over. Thanks for following along.