Don't Forget "Old School" Options in your Online Marketing
This experience is rather unusual, I have to admit. But I thought it was worth writing about because it points to the fact that "email" marketing is still viable and should not be overlooked.
I often listen to several call in talk radio shows while painting and sometimes even send in my own opinion via email. I'm not the call in type myself. I could do that but that's just not my style. And, no...emailing radio talk shows is not part of my marketing strategy. Email is , however, and in every email I send, I include my signature block at the end as you see below (minus the copyright notice). I have it set to load automatically in every message; I don't even have to think about it.
My Email Signature Block
I have two, actually. The other one includes both my phone number and mailing address. This is the basic version ....
Well, I guess I happened to email the right person because he did check my site out and liked my work. Not only that, he bought one of my paintings. And I was quite surprised when I heard my name mentioned LIVE, over the air on national radio - not once - but on two separate occasions. This show isn't related to art in any way, but it is broadcast on over 250 radio stations nationwide. Both mentions included a description of my work and my website along with my name. How about that? But it goes further....
Interests Beyond Art
I have other interests besides painting. I'm also a sports fan and listen to sports talk radio shows sometimes while painting. I had two loves growing up...art and baseball. In fact, my coaches were telling me they thought I had a shot at making the major leagues someday, if I stayed with it. I was a pitcher, but I had to give it up due to health issues and that's when I went full force into painting. But my love of the game never ended and this is how my "radio broadcast" happened...
Advertising I never expected to receive...
I heard something said by the show's host that I had a differing opinion on, and sent in my email. I sent a copy to both hosts, but had no idea at the time that my Bcc (blind carbon copy) email was going to an art fan. This initial email began a series of discussions on art and sports. Not long after, I noticed this person had subscribed to my newsletter. He's been a loyal reader ever since and has followed my work for the last two or three years. Not only did he mention me live on the air, but he also tweeted a link to my site on his Twitter account. Tomm Looney of Fox Sports Radio (Twitter: @LooneyonFox) might not seem like the type who would enjoy and collect art, but he is. He even owns an original work by Ron Wood, of The Rolling Stones. He bought it in SOHO several yeags ago. Well now he owns one of mine, too, and that never would have happened without my email signature block.
This example shows why every artist on the web should be using an email signature, because you just never know. And if you don't have one, my advice would be to make one as soon as possible. But if you don't have one, you're not alone. I still get emails from artists that have no mention of their websites anywhere, and I have to say I just don't get it. Mine have the hyperlinks to my site, but I include the full url just in case the links get "killed" by the recipient's email program. That does happen sometimes. So I don't use links that say only, "My Website" for example. I want the full url to be seen, from the http on. That way, if a person is interested in checking it out, the text url can be copied and pasted into a web browser even if the hyperlink doesn't work.
If you think someone who is "into sports" like Tomm is wouldn't be much of an art fan, think again. Of course I am just a little prejudiced but I think he purchased one of my better studies...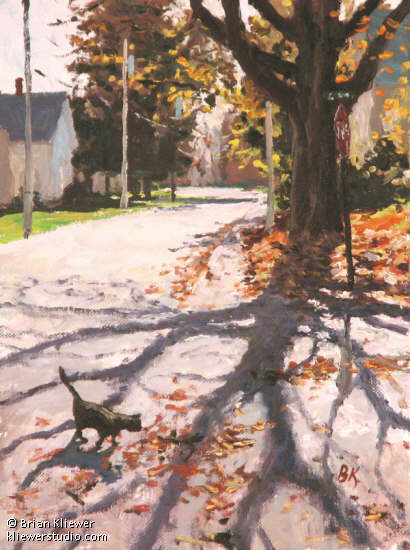 "Cat Crossing" 8"x6" oil on linen © 2011 Brian Kliewer
Use that Signature Block!
To me, this example is proof that your online marketing can be successful in ways that you might not think of at all and that would be considered, "outside of the box." I never would have thought of getting promotion of any kind from "The JT the Brick Show" on Fox Sports Radio or selling anything to a sports talk radio host. But then I never would have guessed that former tennis star, John McEnroe, or the NBA's, Grant Hill, would be serious art collectors, or that NY Jets quarterback, Mark Sanchez, would enjoy Broadway musicals. I'm not saying sports is full of people who like art, but this shows you never know. And this is why I include my signature block in EVERY email I send!

A side note: If you have never heard "The JT the Brick Show," they do something special for musical artists called - Music Monday. Every Monday night they feature acts that might not get any national exposure otherwise. I've heard some great talent on it. My guess is, even though I'm a visual artist, Tomm was trying to extend some of that to me thanks to his love of art. Thank you, Tomm!
Have you had email marketing success using a signature block? I'd like to hear about it if so. Please leave a comment.