Little Red Squirrel, I See You...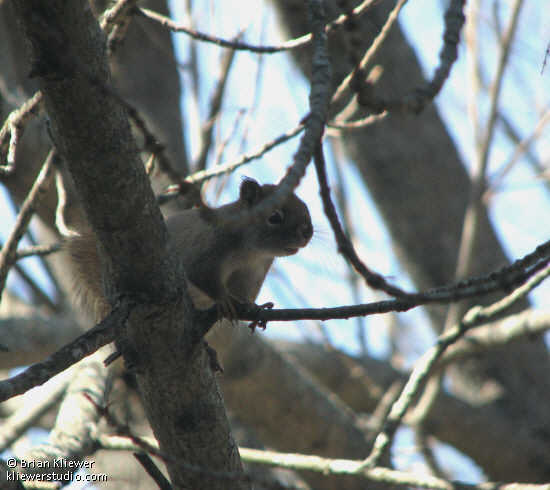 Photo © Brian Kliewer
The red squirrel was back today. Actually both it and a gray squirrel were out back this morning. I still haven't seen either actually getting to my bird feeder, though. And with the slow decline in my supply of seeds very few birds are getting to it, at all. But I think I know what that is all about...
I recently read an article that said many sparrows and finches are ground feeders, or prefer to be near to the ground when they eat. My feeder is actually hanging off our back deck, which is on the second floor. A few chickadees show up but not much else. So now I'm thinking I might have to find another place for it...
So here I am looking for all this activity out on my back porch saying "come and get it!" All the while the birds are, in effect, 'looking up' at me and telling me..."But it's too high!" And I'm looking down at them and yelling.... "Well, you've got wings... FLY!!"

If nothing else...I'm thinking I might at least get some small studies done of this little guy. This is frustrating because we had a feeder at another house and the activity was crazy! We got all kinds of birds there. But it was located in an evergreen shrub and hanging about five feet or so off the ground. I could do that here, but I wouldn't have any great views to work with. Feeling kinda bummed out on this one.