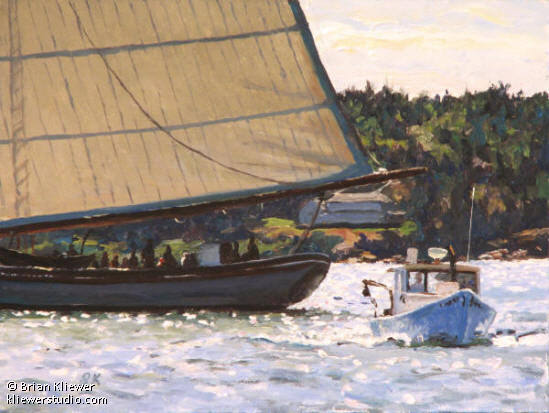 "Harbor Traffic" 6"x8" oil on linen © 2012 Brian Kliewer SOLD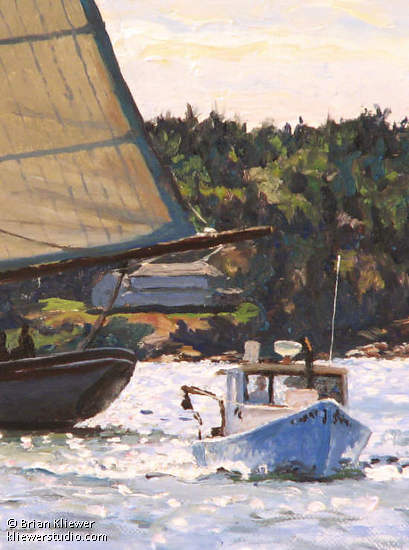 "Harbor Traffic" detail © 2012 Brian Kliewer
About the painting...
This lobster boat is actually one of the smaller ones I've seen. I adjusted its size for the painting because the look with the lobsterman at the helm was unnatural. To me he looked like a giant. I also adjusted the angle of the boat. Instead of coming toward the viewer, in the actual scene it was veering toward the left. I liked this composition better. In this particular painting, the schooner acts more as a foil than subject. I thought about leaving the building in the background out but it became an important element, helping to show distance.
Everything about this composition works for me. The wake from the lobster boat leads you to the schooner. The sparkling water itself tends to pull you to the schooner also. The passengers and crew onboard lead the eye up to the sail. And the sail and boom together drop you off back at the lobster boat.
Even more? In the detail picture, notice how the schooner's stern and sail boom work together with the lobster boat antenna to nearly form a frame around the lobster boat. Then there's even a "frame within a frame" as you see the lobsterman peering through the frame of the window. It's these sorts of little nuances in a painting that spark my imagination and keep me going .
This study has all the feel of becoming a larger painting.

This painting sold at auction here on my blog. Auction Rules and Guidelines. Bids are now closed, but you can leave a comment if you like.