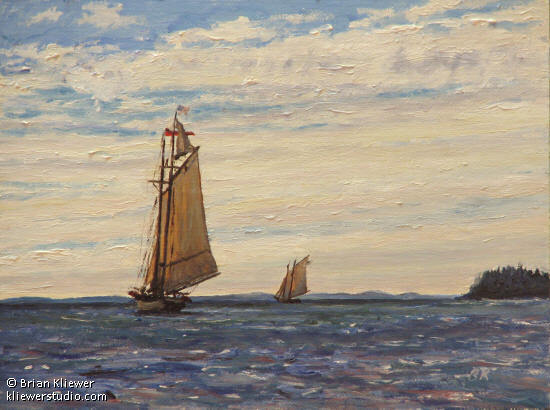 "Catching the Wind" 6"x8" oil on linen © 2012 Brian Kliewer SOLD
"Catching the Wind" (detail)
About the painting...
If you look closely, you can see a figure standing high up in the "crosstree" of the closest schooner. It always amazes me to watch these young people "perform" in this kind of "aerial display." The term "trapeze artist" quickly comes to mind.
The detail image was photographed under different lighting to give a better view of the brushwork.
Bidding begins at 6:00 PM US Eastern Time. If you would like to bid on this painting, please follow the Updated Auction Rules and Guidelines. Thank you.
Minimum bid is $150. Bidding will close at 6:00 PM Eastern Time (US), Thursday, March 22.
Paintings usually ship within 20 business days after payment has cleared.
($15 shipping US/Canada will be added to the winning bid) (5% sales tax Maine residents only)
Bids are now closed.