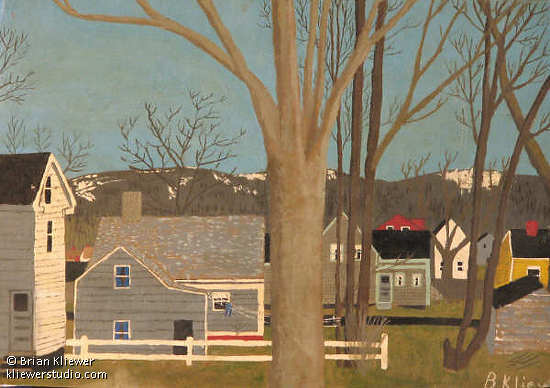 Untitled 10"x14" mixed media on cardboard, circa 1974 © Brian Kliewer
I stumbled across this painting earlier today. I couldn't believe it when I found it, nor its condition. It's actually in very good condition considering how old it is and the painting support I was using at the time. It's one of the earliest "paintings" I've ever done. We're talking "little league" days here. I did this when I was about 11 or 12 years old and used the box bottom from an old board game as my painting support. I can't remember if it was Checkers or Parcheesi...one of them.
Looking at it now, it has a kind of "folk" art feel to it. Most of the paint is from a 'paint by numbers' set. But I remember wanting to do something of my own, so I took the paint and did this scene looking out from our living room window. Even back then I had learned a few things about how paint handled. Not long before this I did a painting of a lighthouse using both gouache and oil paints. I kept getting angered by the white foam in my waves flaking off and never understood what I was doing wrong. By the time of this painting, I'd figured it out. It was too costly to keep wasting good paint! But even this ia a"mixed media" piece. There are both oils and watercolors in it. I just made sure not to overlap any paint that could have contradictory results. The white building on the left is the Turner house I mentioned in an earlier post. It tragically burned down to the ground several years later.
As you can see, I didn't have a whole lot of self pride back then as my signature got cut off...literally. :) Finding this again after all these years was indeed a treat.