Some Ideas on Better Blogging
I'm working on making this blog better. As you can see on the front (Main) page, I now have a "header" photo that, at least to me, better represents it.
I've had a few snafus. In trying to be "human," I've posted a few things that were meant to be funny but came off sounding more ill-tempered. I apologize for that. But I won't apologize for my opinions. I do have them and I don't want a "staid" blog that offers none. But I'll try not to over do it in that area...and you will see more humor. I intend to be ME here and no one else.
Optimizing for Speed
I'm also trying different things like optimizing it for speed. Have you ever been on a blog that was just endless? I have. I can't read them. It's just a waste of time. Even on a high speed connection...that doesn't matter if no consideration is given to the reader. Posts that go on forever do nothing for me (and, yes, I have written a few myself). With that in mind, this is also why I only allow 5 posts to load while all the others get archived as "Older Posts." I think 5 posts visible at once are enough...10 max. I've been on many blogs that seem to not limit posts in any way at all. Look at this blog now from the main page and you'll see 5 posts. Click on the "Older Posts" link at the bottom of the page and you will still see 5. Only if you click on a subject to the left will you see more, depending on how many posts have been tagged on that particular subject.
I'm also resizing my images for faster loading. This blog template will allow a maximum pixel height/width of 550. I was posting pictures 600 pixels wide. I can go larger if I want, but if I do, it will mess up the download speed. Since I've started resizing and compressing accordingly, I'm seeing better speed test results.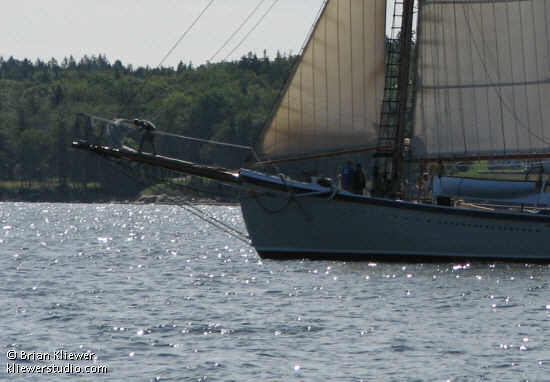 This image was originally over 2000 pixels wide and 1.5 megabytes in file size. Here it's 550 pixels wide and I've compressed the file size to about 25 kilobytes. How does it look to you? I can see some of the effect of compression but it's minor. It is a compromise, though. With my painting images, I want to be as close as possible but without the file size. I should be able to get what I want by resizing to a 550 pixel limit (longest length, height/width) and saving at 72 dpi. I haven't done this with the rest of my site yet. I'm focusing on the blog for now. I want it to be the fastest loading it can be, while maintaining good image quality.
Here's a good article on Empty Easel about optimizing images for the web. I'm not doing all that's mentioned myself, but I'm doing what I can.
Making it Scannable
Though I haven't done this much before, I'm going to try things like
using bullets when appropriate.
Numbers will also work.
Indenting might also show up and in case you haven't noticed, Headlines are beginning to appear. Yes, they're real "Headlines," not just bold text. I'm using the h3 header. This is because my template uses the h2 header for Post Titles (permalink URLs). This gets into SEO (Search Engine Optimization)
H1, H2, H3
My blog title is "I Wish To Speak To You." I might rename it for better SEO, haven't decided yet. Since I am a painter, something with that in the title might be better suited. Update: As you can see, it's now called "Diary of a Maine-iac Painter." This suits me much better because I am from Maine, born and raised. Regardless, the header (titles) are in H1 tags (Heading 1), my individual post titles (permalinks) are H2 tags (Heading 2), and the subtitles are H3 tags (Heading 3). See how it works? Update: These tags aren't really that important to me. H1 and H2 are built into the template anyway, so I want an h3 heading coming off my h2 permalink titles. It can help with SEO supposedly (with proper keyword placement, which I'm not going into here, etc.), but...regardless, I like the look of my subtitles better with actual h3 headline tags instead of just "bold" text as I use bold text to highhlight key points in my paragraphs.
Blogroll - Would You Like a Link?
Blogging isn't just about writing text. It's also about presenting your words and images in the best way possible. Yes, I want my images to look as good as possible. But I used to be so caught up in that, I paid no attention to my readers. Download speed meant nothing to me. Well, I have learned. But making a blog more useful to its readers also means giving them something in return for their time. Many of my readers are fellow artists. That being the case, I'm also working on a blogroll...
Would you like a link? Leave a comment and let me know. I'll be posting an in-depth article on this very soon.