LEAVE A COMMENT!
Okay, I'm being a little harsh I guess but here's proof showing why it works...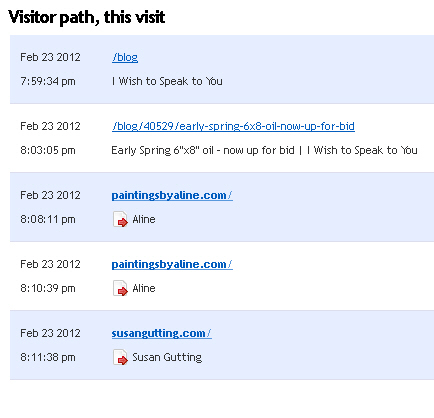 This is a view of one of my recent visitor logs.  Aline and Susan left comments on my blog.  See the little red arrows?  Know what they mean?  They mean that someone visited THEIR sites via the comments they left on my blog.  The arrows denote "outbound" traffic. 
Have a site?  Leave a comment.  Don't be tacky, though, and leave your website URL in the comment field.  Leave it in the website field along with the info blogs ask you to identify yourselves.  I've done it before.  It works.   I've even gained collectors this way. 
I often get feedback in my email from artists after I send a newsletter/update.  That doesn't really do them any good.  A blog comment can.
And as a "Thank you" to both Susan and Aline for their comments, here are links to their websites:
http://paintingsbyaline.com/Paintings_by_Aline/Welcome_to_Paintings_by_Aline.html