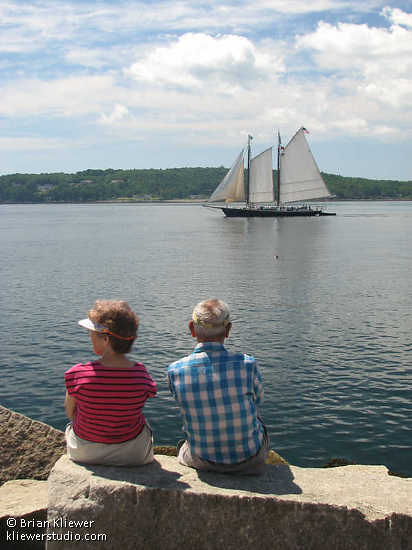 A couple watches as the schooner "J&E Riggin" passes by
Photo © Brian Kliewer

Having been born and raised in Rockland and having lived here most of my life, the one constant every summer has been seeing these beautiful Maine Windjammers ply the waters of Penobscot Bay and other locations on the coast of Maine. Ever since I was a little boy, I've had memories of watching the Victory Chimes heading out into open water as it passed the breakwater and lighthouse. I always wondered where they went and who the people onboard were. Beautiful vessels, it's an absolute joy to stand or sit at the end of the breakwater and watch and listen as they slide by. Hearing the wind in the sails, or the "shanties" being sung, it's a pleasure unlike any other "on land."
So, with this post I'm announcing my upcoming series of paintings featuring Maine Windjammers. I've done a few already but up until now, I hadn't devoted myself to an actual "series." I'm going to kick it off March 12 19 with a "mini" series of small paintings that will be up for bid here on my blog. It's going to be a week of paintings and each will be available via auction for 24 hrs. I'm planning to post five or six paintings in total for the week, so I'm calling the event, "Fleet Week." Then on March 12 19, the first of these paintings will go up for bid.
After that I'll continue to post new, larger paintings as they develop in the coming months. As the series progresses, I'll be adding these paintings to this collection. During the project, my blog will be used as a sort of photo and painting "journal" or "essay" of activities at the North End Shipyard and in the waters off the coast. It's my hope to follow the season, from beginning to end. If I can pull it off, some of the paintings will feature preparations made behind the scenes as the crews ready their ships for the coming season. One of the planned highlights will be a Day Sail in June that I will be taking myself aboard the schooner, Isaac H. Evans.
I'll be posting other paintings here throughout the summer as well, but expect to see as many paintings as I can muster based on the schooner fleet.
Again, we get "underway" here on my blog March 12 19. Will you join me? Subscribe to my newsletter for email updates or follow the RSS feed in a reader.