"Promontory, Bass Harbor Light" 24"x36" oil on canvas © Brian Kliewer
In my previous post I might have sounded like I was 'going after' other atsists for the way they portray our grand old State of Maine. Nothing like that was meant. A lot of the work I see does pretty well depict Maine, even if typical. And if I were an artist from out of state with only a few days to get what I could on canvas, I'd probably go for that look as well. It is a beautiful place! Sometimes I do go for that look. Sometimes it's just the thing to do.
But like any place it has its own 'character' that isn't typically seen. This is what I was getting at. Bass Harbor Head Lighthouse (above) is often portrayed in both photographs and paintings in full sunlight. Sometimes you see it in fog. I liked this view. The day I was there it was overcast as I've painted it. It has to be one of the most photographed lighthouses of all them in the state. In my 'not so typical' view, I elected to go with almost no water in sight. Sometimes it just gets too pretty here. This is one reason I like to look for a different approach.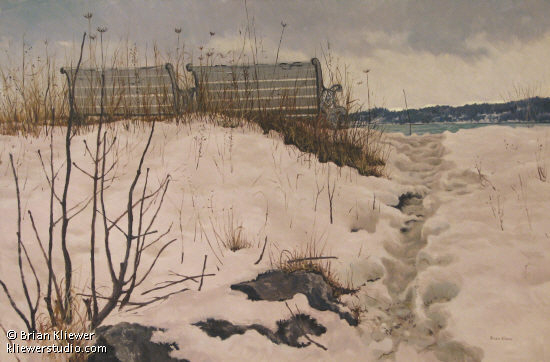 "Off Season" 24"x36" oil on canvas © Brian Kliewer
"Off Season" was done with this in mind. However, I'm constantly aware that I can also become cliche even in my own work. This is something I try to avoid. But I don't necessarily try to buck trends just to be different. It's really about what best expresses both my mood and the scene itself. While I want to have my own signature style, I would never want to be a 'if you've seen one, you've seen 'em all' kind of painter.
Being aware of these things can hold you back. No...being an artist isn't "easy"...anywhere!