No, that's not the Chicago Cubs but real Maine Black Bear cubs...LIVE online!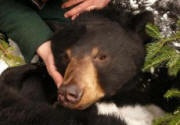 Lugnut
I caught this on the news yesterday and thought I'd share it. You can watch streaming LIVE video of a Maine black bear and her cubs. "Lugnut" gave birth to two cubs on January 16 and the Wildlife Reasearch Foundation has set up a live streaming video camera in the den. You can watch it on the center's website: http://www.wildliferesearchfoundation.org/
From MPBN: "Maine officials and a wildlife group have teamed up to install the state's first "bear cam" in a black bear den. The camera streams video 24 hours a day of the bear, Lugnut, who gave birth to two cubs on Jan. 16.
Lugnut is one of several black bears in Maine equipped with radio collars, which enable state wildlife biologists to keep track of them. The Department of Inland Fisheries and Wildlife teamed up with the newly-formed Wildlife Research Foundation to install the camera in Lugnut's den."
More from WCSH TV in Portland.
Now, I wonder if "Lugnut" will complain about someone 'throwing a wrench in the works'? Pull down that shade!