"Maine Windjammers" (study) 6"x8" oil on linen © 2012 Brian Kliewer SOLD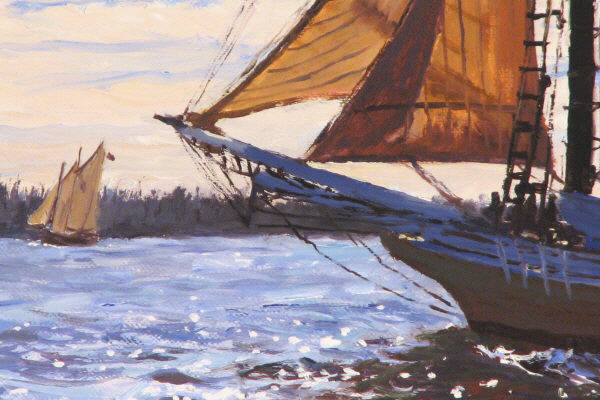 "Maine Windjammers" (detail) © 2012 Brian Kliewer
Bidding begins at 6:00 PM US Eastern Time. If you would like to bid on this painting, please follow the Updated Auction Rules and Guidelines. Thank you.
Minimum bid is $150. Bidding will close at 6:00 PM Eastern Time (US), Wednesday, March 21.
Paintings usually ship within 20 business days after payment has cleared.
($15 shipping US/Canada will be added to the winning bid) (5% sales tax Maine residents only)
About the painting...
My barque is wafted to the strand
By breath Divine;
And on the helm there rests a hand
Other than mine.
I like these words by Henry Alford and thought they fit this painting particularly well.
I hope to do a larger verison of the painting at some point. In fact, many of these small paintings are meant as studies for larger works. Sometimes those develop and sometimes they don't. I often don't know which ones will work best or move me to do a larger piece. On other occasions it's immediately known and from the very start the small piece truly is a study for a larger work. The nature of the ships themselves in this series leads me to believe many of these studeis would work well on a larger scale.
Bids are now closed.