When I was younger, I took up birdwatching as a hobby. I bought Roger Tory Peterson's "Field Guide To The Birds," a spotting scope, binoculars, and even a fishing vest so that I could carry my gear around. We had a bird feeder in the tree in the front yard and had plenty of visitors. I remember seeing a Dicksissel after one particularly fierce storm. This was a stray from the midwest, only rarely seen around here. And I remember one time seeing a Bluejay sit perfectly still for an entire half hour....completely motionless. Then I saw the reason...
A hawk had discovered our "small bird sanctuary" and decided to have a meal. I never got a good look at it to determine what kind of hawk it was but it caught one of our English Sparrows (no great loss among "birders") and made a quick lunch of it. After it was finished and flew off, I went outside and found some feathers, the feet and what was left of the bird's skull.
Anyway, this year I decided that I wanted to get back to my hobby and possibly do some small paintings of the birds that come to my new feeder. So I set it up out back... but this has been one quiet winter! All I've seen after nearly a month are a few Chickadees, a Red Squirrel and the neighbor's cat.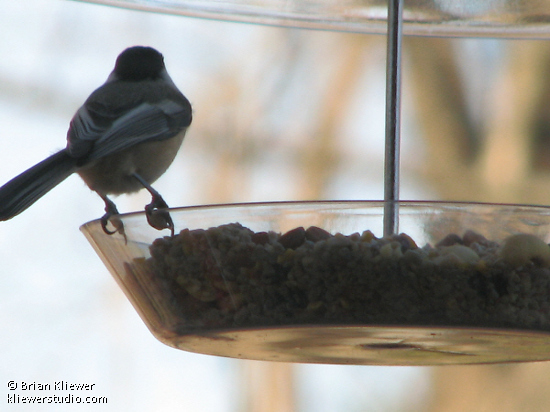 I placed the feeder in what I would call a "good" spot. It's only about 10 feet away from a nearby Maple Tree and hovers about 3 feet above some evergreen shrubs. Quick and easy "cover" if the birds do decide to show up.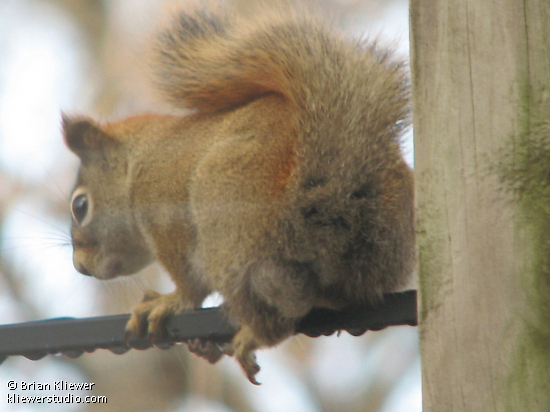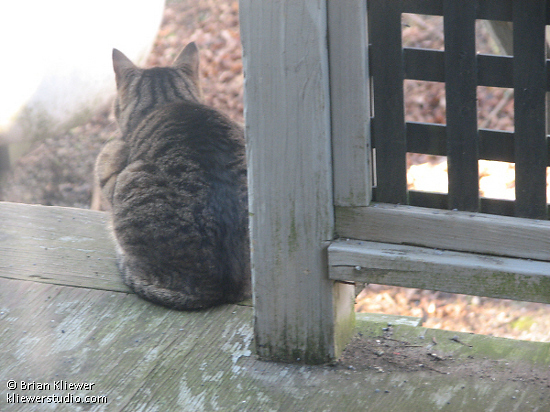 Other than the Chickadees, there have been no birds to speak of in the trees here. It would upset me more if they were here and just not visiting my feeder but they aren't. This "open winter" seems to be the culprit. There's been very little snow so far. My biggest concern when I bought the feeder was my neighbor's cat. But just like the birds, he hasn't been around much either. The squirrel is new to the feeder and I've only seen him once or twice. If he's reaching it, there are no signs of it other than his sitting atop the post. My supply of black oil sunflower seeds doesn't seem to be diminsihing at all.