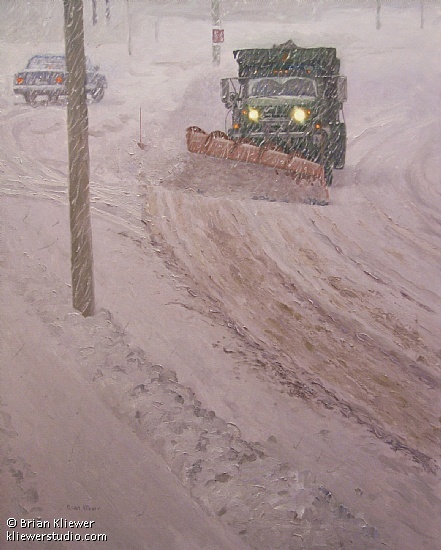 "Winter Storm" 30"x24" oil on canvas © 2011 Brian Kliewer

I'd like to discuss some of the techniques I use in my work. Though I do paint realistically, I like to add "texture" to my paintings when possible. This is a relatively new approach for me. An artist friend suggested adding texture a couple of years ago and I had been thinking that way. But the one thing I didn't want to do was make the paint look like paint simply because it is paint. I'm not an impressionist painter, so that didn't seem like an approach I wanted to take. So how do you add "texture" to a very realistic painting and make it "work"?


Brush and Knife?
There are "purists" who would never introduce a palette knife to a painting that is mainly done with a brush. That's fine, but I have seen some beautiful paintings that incorporate both knife and brush techniques very well. The full online image doesn't really show it well, but in "Winter Storm" I have relied on both quite heavily. First the brush was used to lay the ground work and then I brought the knife in to "finish" it off.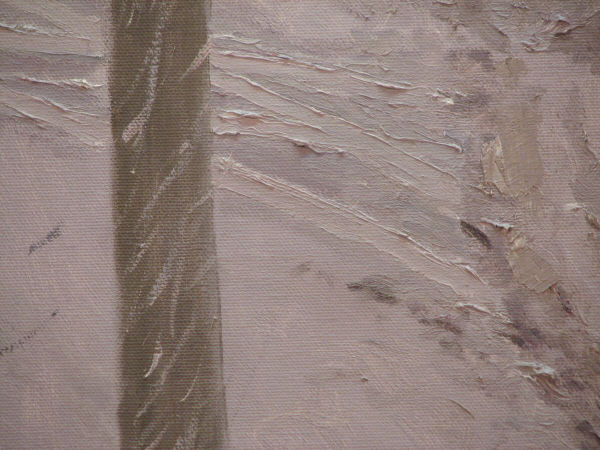 If you have a snow covered road, you're going to have "ruts," right? I applied paint in the road quite heavily to simulate the tracks in the snow. The car in the upper left of the painting was parked at a gas station and the tracks in the snow lead to it.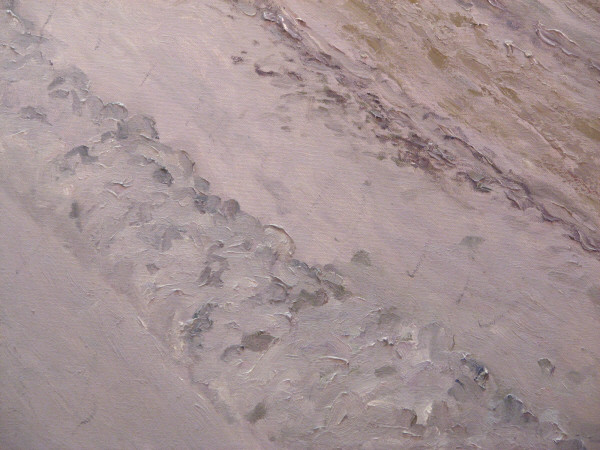 Some of the snow ruts in the road were first painted with a brush but then enhanced by heavier applications with a palette knife. I also built up texture quite heavily in the snow bank.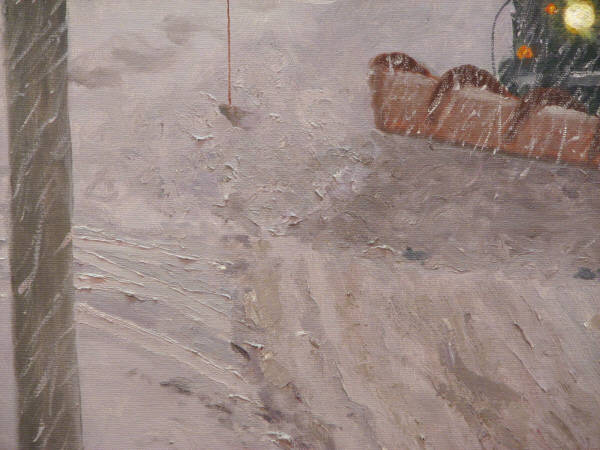 I also added heavy texture where the snow is churning from the snow plow.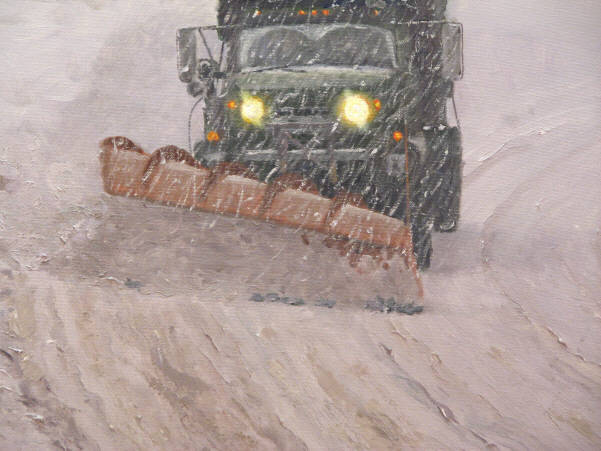 A note about the headlights...
Yes, they do appear to be turned on (illuminated) when the painting is viewed in person. I discovered a trick many years ago that I still use today. I washed in the entire painting when I started it but I left the headlight area of the canvas bare. Then I built up my middle tones, etc., all around, and at the very end, added my yellowish washes to the bare white canvas. I feel I get a greater inetnsity this way. There are other ways to paint "illuminated" lights, but this is my preferred method for depicting bright "white" light. The orange lights are an example of another way as they were painted with mostly pure, undilluted, "unmixed" color. I mixed very little color here while the rest of the painting is toned down with a mixed, almost "monochromatic" color scheme. This makes these painted lights appear more "luminous" as their intense orange color is worked against the painting's more subdued arrangement. So without working overly "dark" in the painting, I was able to get this kind of "illuminated" look. Adding to all of this is the fact that, compositionally, the headlights are the only part of the painting that carries this kind of intensity. If I had lights all over the place, they could appear to be quite "luminous," yes... but the impact would be lessened.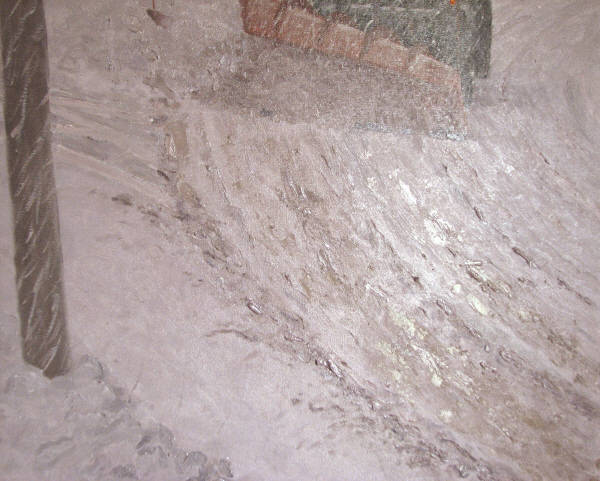 The "icing" on the cake...
After I felt the rest of the painting was more or less "finished," I came back to the road and laid in some very smooth strokes of fresh paint with the palette knife. As you walk around the "dried" painting, you can see what's going on and why the knife worked so well here as it gives the paint application on the road surface the shiny appearance of "ice."
Is this the only way one should paint? No, I wouldn't say that. But I've discovered some fun and interesting tricks by adding texture. I've been able to make paint's inherent qualities stand out and work to my advantage. In the end, I feel I've brought more of my own personality to the work. Perhaps someday I will work in an even more "painterly" fashion, I don't know. I expect that I will. But for now, I'm satisifed to add some texture in selective measure to highlight the nature of certain aspects of the scene I'm working on.

Keep painting!